The best sales tracking software can track sales team activities across multiple channels, improve sales forecasting , and deliver sales performance metrics like the number of sales and net new revenue.
But without a sales tracking system — and without quality data — you're just guessing at what's happening in the field.
So, if you want to track your figures efficiently, you need to choose the right sales tracking tool for your team.
In this guide, we'll show you what to look for in sales tracking software and then highlight the top sales tracking software for both inside and outside sales teams.
What To Look For In Sales Tracking Software
Before we check out the best sales tracking platforms to consider in 2023, let's highlight what functionality to look for in a sales tracker.
Sales pipeline visibility
Sales tracking software should give sales teams a complete real-time view of their company's pipeline.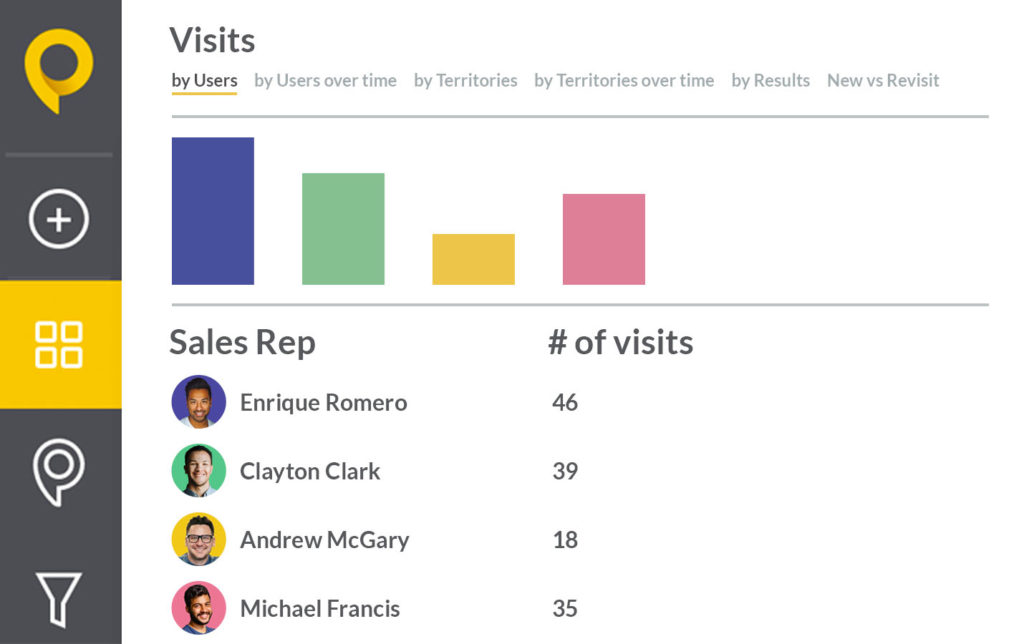 Sales managers can examine the pipeline to see where leads are sticking. For example, if the pipeline shows a lot of leads reaching the quoting stage, but advancing no further, that could indicate a problem with the product pricing structure.
If the pipeline reveals a sales‌ rep ‌is ‌failing to close deals, then you can review their sales process to find out whether they're missing an important step or need additional training.
Sales activity reporting across multiple channels
The best sales tracking tools should also ensure that reps perform the "controllable" sales activities each day, week, and month to keep the sales funnel full.
For example, you'll want to measure sales activity metrics like the number of calls, emails, follow-ups, visits, social media connections, discovery calls, meeting requests, and completed proposals.
Look for software that allows you to automatically captures sales activities as reps perform them, to reduce the amount of manual data entry.
Sales performance tracking (rep, territory, and organization levels)
The best sales tracking software lets a sales manager review sales performance at the rep and organizational level, and also by territory (for outside sales teams).
Managers and execs want to track top-level KPIs, such as the number of leads, number of opportunities, lead-to-opportunity, number of sales, net new revenue, and pipeline value at each level.
For example, here you can see leads created by Territories: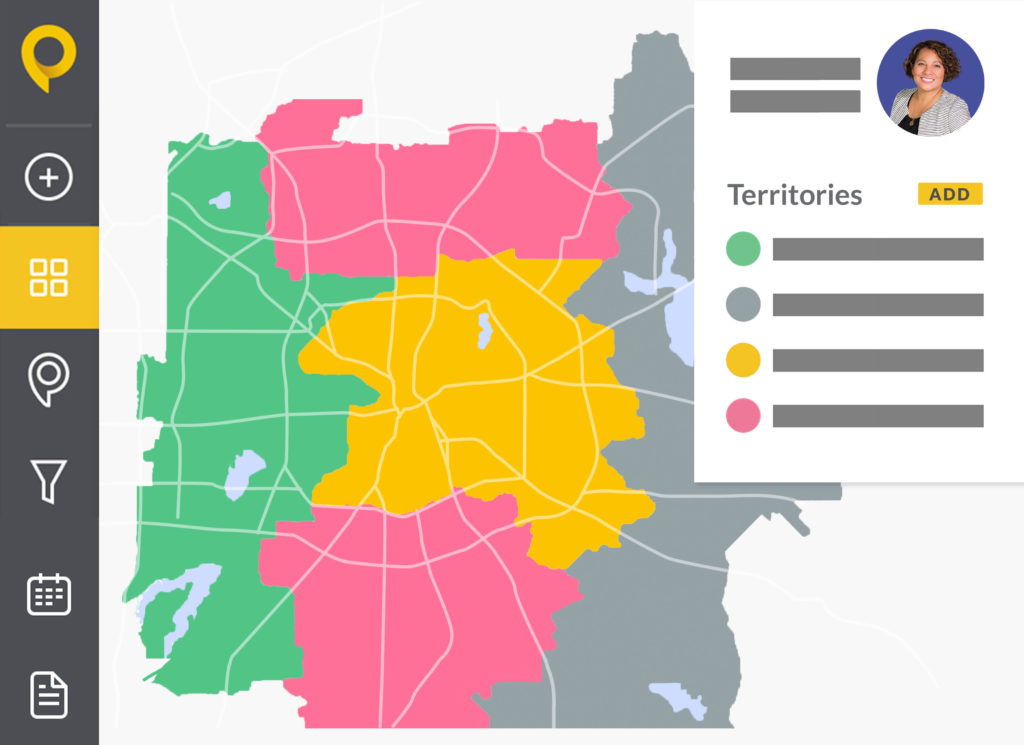 It's essential that sales managers can see the top-level performance and can evaluate how individual reps, teams, and territories are performing.
Sales win-loss analysis
The best sales tracking software shows managers their team's win-loss ratio. While it's great to record wins, it's also important to keep a record of potential deals that fell through.
If you know the reasons you're losing sales, or even which competitor you're losing out to, you can take action to improve your sales process and ensure your win ratio improves.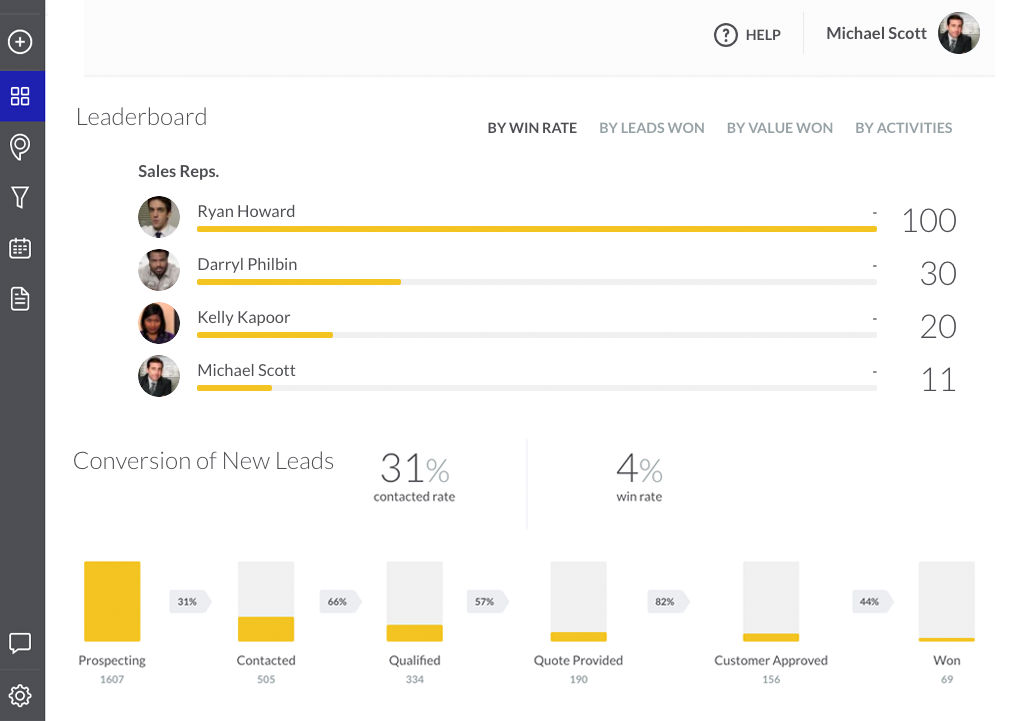 Analyzing your losses also allows you to forecast your sales numbers accurately for a given month, quarter, or year.
Sales process insights
If you can't look at your sales pipeline, pinpoint a spot, and say, "That's where we're losing sales," you won't be able to immediately resolve the problem. The right sales tracking software helps you pinpoint any bottleneck in your sales process.
For example, your sales reps might make:
X amount of cold calls, but none of them get returned.
X amount of introductions, but book no follow-up appointments.
X amount of sales appointments, but lack enough quotes.
X amount of quotes, but only get a few sales.
X amount of closed sales, but have high customer churn.
Sales tracking tools give you the metrics you need to fine-tune your sales processes.
Sales forecasting
Companies use sales forecasts to make monthly, quarterly, and annual revenue predictions and allocate resources accordingly. However, not all sales forecasts are that accurate.
If you want to help your organization, make sure your sales tracking software lets you see previous and current sales data for your team so that you can confidently forecast future sales based on those numbers.
Forecasting is only 100% successful when sales activities are tracked through the pipeline, from prospecting to demo to how long it took to sign the deal. The best way to keep track of everything is to capture data in your sales tracking software.
Sales managers can then access the data quickly at the end of every month, quarter, or year, to produce accurate sales forecasts.
Sales leaderboards
Sales leaderboards let managers see which reps are completing their assigned activities and generating the most pipeline and sales volume. With these insights, managers can help underperforming sales reps get back on track. Managers can also use leaderboards to encourage healthy competition and motivate reps to work harder.
The best sales tracking systems include a leaderboard that managers can use to track metrics and help refocus a sales rep's efforts.
You can also use leaderboards to encourage healthy competition and motivate reps to work harder when there is so much transparency.
Customizable Reporting Dashboards
Sales reps, managers, and administrators may need to review different KPIs, so look for sales tracking platforms with customizable reporting dashboards. Leading sales tracking platforms like SPOTIO let you customize report parameters and save them, so you can easily repopulate reports with new data anytime (even when you're in the field).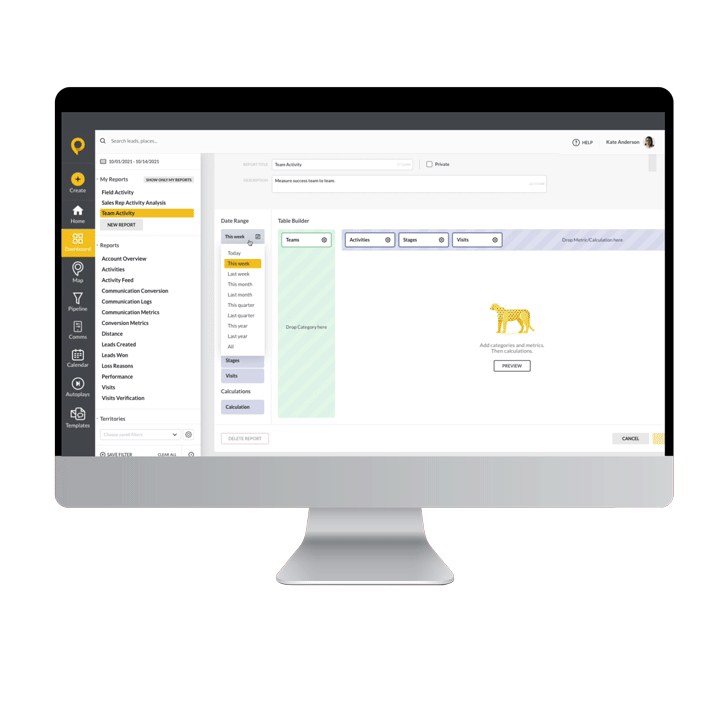 Managers can use custom reports to quickly troubleshoot underperforming reps and territories. And you can also share reports with the touch of a button.
8 Best Sales Tracking Tools For 2023
Now that you know what to look for in sales tracking software, it's time to share the best solutions for both inside and outside sales teams.
We've included a brief overview of each sales tracking tool and highlighted some of its most valuable features.
SPOTIO
SPOTIO is the #1 outside sales software for sales reps and managers that boosts productivity levels, increases sales revenue by 23%, and shortens sales cycles.
Best for: Field sales teams. SPOTIO is ranked #1 in the Field Sales category, and was a 2023 G2 Best Software Winner.
Key sales tracking features:
Multi-channel activity-level reporting: 
Make sure reps are working hard in the field. With SPOTIO GPS tracking, managers can see where reps are, the routes they follow, and the exact time they "check in" at any location. SPOTIO automatically logs each visit to create an audit-ready log for each sales rep.
Activity reporting features sync to your CRM and show you the number of touches required to turn a lead into a customer.
SPOTIO offers field sales teams the only multichannel communication platform for capturing customer engagement through visits, calls, SMS, and email.
Performance reporting at the rep, territory, and organization levels: 
SPOTIO lets you track top-line metrics such as leads created, opportunities created, sales volume, close rate, and revenue across each level of the company, all the way down to the rep, channel, and territory levels.
Pipeline tracking:
With SPOTIO, you can quickly spot bottlenecks at different stages in your pipeline. For example, do your reps make plenty of sales calls but only book follow-up appointments for 25% of those contacts?
Sales leaderboards:
You can create transparency and encourage a healthy level of competition among reps with SPOTIO's leaderboards. See which reps contribute the most sales and which ones may need additional coaching.
Sales forecasting:
SPOTIO's sales tracking lets you capture, visualize, and measure specific data so that you can provide accurate sales forecasts and insights to your executive team.
Email notifications:
You can keep your managers up-to-date with SPOTIO's email notifications. Choose to receive daily or weekly updates on team performance and activities so that you can intervene when things are off track.
Fully customizable reports:
One of SPOTIO's features — called "My Reports" — lets users configure sales reports based on date ranges, employee type, sales activities, pipeline stage, and other factors. Just use the simple drag-and-drop interface to set up a report, then give it a title and save it — you can duplicate it and change the report parameters at any time.

Salesforce CRM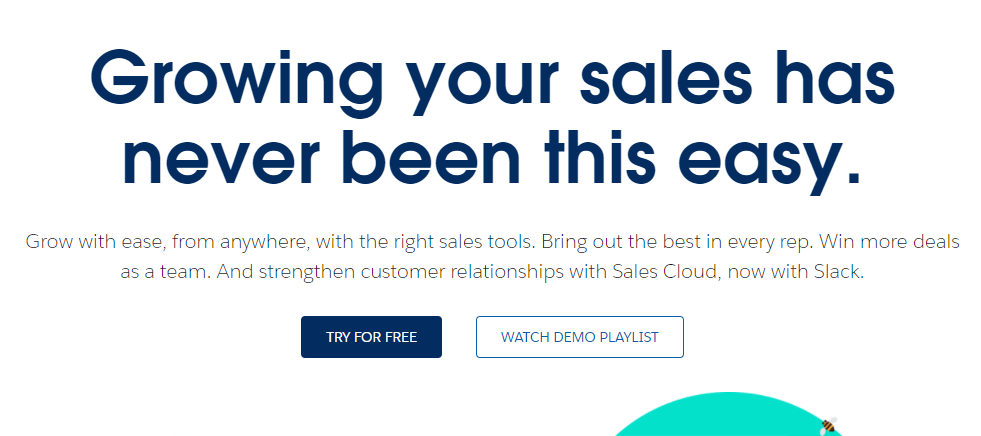 Salesforce makes a variety of cloud-based products that sales and marketing teams can use to work more efficiently.
Key sales tracking features:
Sales activity and lead management:
Automate administrative tasks to free up more time for sales teams.
Easily log customer activity, such as phone calls, emails, and visits.
Set a cadence for follow-ups and get alerts when it's time to check in with a lead or customer.
Analytics and forecasting:
Support forecasting decisions with Salesforce CRM's detailed data.
Analyze performance by rep, territory, or customer stage.
Identify opportunities for improvement.
Personalized experiences:
Trigger personalized messages based on customer actions.
Integrate customer data from different platforms, so reps can always see a complete history of customer interactions.
Improve response quality and timing for customer inquiries.
Transfer customers between agents, or from chat to call.
Multichannel integration:
Integrate Salesforce CRM with HubSpot and other key platforms.
Use bi-directional real-time SPOTIO integration to turn SPOTIO activities into Salesforce tasks. You can also decide which fields should sync between platforms, and reps can push important information to Salesforce while using SPOTIO's sales tracking apps in the field.
Pipedrive
Pipedrive is a popular inside sales CRM and pipeline tool that helps you get more qualified leads and grow your business.
Key sales tracking features:
Pipeline management:
Pipedrive's visual sales pipeline encourages you to take action and remain organized.
Use the "deal rotting" tool to see when a potential deal idles for too long.
Sales automation:
Leads feed directly into your sales pipelines 24/7 via your custom web forms and chatbot.
Automate repetitive admin tasks, so you can focus on selling.
Track communications:
Track calls and emails with your contacts so that you have all the history at your fingertips.
Performance reporting:
Using Pipedrive's reporting, you can:

See all won and lost deals at a glance.
Find out which deals aren't closing.
Understand when and why you are losing deals.
Learn what activities bring you the best conversion rate.
Uncover opportunities for improvement. ‌
Forecast‌ ‌results.
SPOTIO API integration:
SPOTIO's Pipedrive integration extracts valuable customer information and data from Pipedrive, so reps can access that information via SPOTIO's mobile sales tracking app.
Copper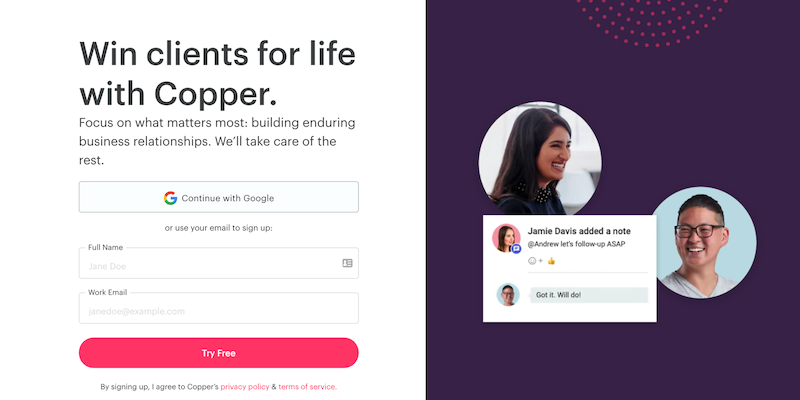 Copper is a popular CRM tool specifically for G-Suite users. Inside sales reps can add leads, update deals, look up past interactions, create Google Calendar events, and follow up on tasks — right from their Gmail inbox.
Key sales tracking features:
Pipeline analysis:
Track, measure, and analyze key sales pipeline metrics so you can boost sales performance, stay on target, and hit your goals.
Get a complete view of your inside sales pipeline by tracking sales data of any kind, over any timeframe, so you can estimate the close date of each deal and know whether you met‌ ‌your sales‌ ‌quota.
Automatic data capture:
Copper finds new leads and populates full contact details.
Sales leaderboards:
Motivate your sales team by creating sales leaderboards that show who's performing best‌ ‌by‌ ‌revenue,‌ ‌meetings‌ ‌set,‌ ‌calls‌ ‌made,‌ ‌and‌ ‌emails‌ ‌sent.
Sales forecasting:
Automate sales forecast reports to see potential revenue by expected close date.
Sales dashboards:
Gather critical sales insights using a set of dashboards about‌ ‌sales‌ ‌opportunities.
Zoho CRM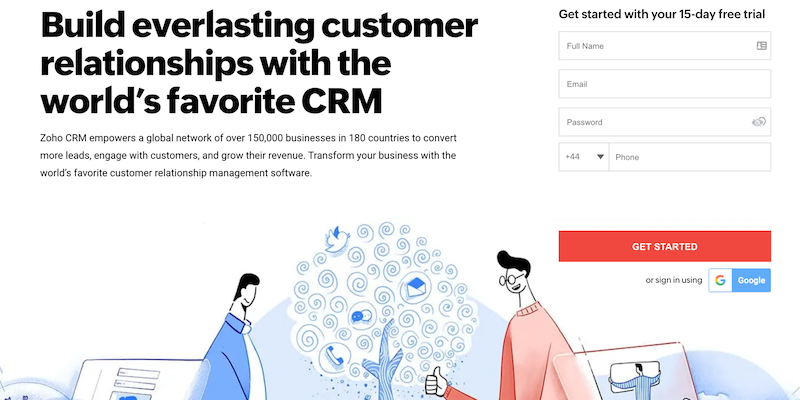 Zoho CRM is a highly rated inside sales tracking tool that includes contact management, sales funnel charts, sales forecasting, detailed analytics, and customizable dashboards.
Key sales tracking features:
Pipeline management:
Analyze every sales activity, and track the numbers at every stage of your sales pipeline.
Create funnels for important metrics, and know whenever there is a significant drop or rise in your sales pipeline. For example, you can check your conversion rates, identify where you have the most churn, and measure the overall efficiency of your sales process.
Omnichannel communication:
Zoho CRM lets you reach customers across all channels: phone, email, live chat, and social media. And you get real-time notifications when customers interact with your business. Plus, you can measure the effectiveness of your customer relationship management.
Anomaly Detector:
The AI-powered "Anomaly Detector" widget compares your actual sales performance with the predicted trend. It notifies you if there are any deviations from the projected sales pattern, such as the number of leads created per month or the number of deals closed daily.
Performance reporting:
Zoho CRM helps you manage and measure your team's territory-wide sales performance, and break quotas down into achievable targets with ‌reports,‌ ‌analytics,‌ ‌and‌ ‌forecasts.
Real-time reporting allows you to analyze all sales activity, trends, campaigns, and sales team performance.
Gamification:
Zoho CRM's KPIs give you a clear picture of the key sales figures so that you can focus on the areas where you need to improve.
You can incentivize your team to exceed sales quotas by awarding badges and trophies for achieving successful goals.
Freshsales
Freshsales by Freshworks is a top-rated inside sales tracking solution powered by its  "Freddy AI." The software helps you discover the best leads, visually manage pipelines,  forecast revenue, drive deals to closure, and nurture existing customers.
Key sales tracking features:
Personalized engagement:
Discover the best leads, communicate with customers via their preferred channel, ‌and‌ ‌personalize‌ ‌messages‌ ‌based‌ ‌on‌ ‌ behavior.
Freddy AI helps you score, filter, prioritize, and engage contextually with intelligent prompts.
Pipeline management:
Freddy AI analyzes your pipeline and helps you prioritize deals.
Review and act on deals you need to close as they move through stages.
Identify bottlenecks in pipeline reports.
AI-powered insights:
Freddy AI analyzes every deal, providing insights and suggesting the next best steps.
Create an accurate AI-powered forecast, improve revenue predictability, and help the sales team take action.
Sales automation:
Streamline your sales processes, eliminate time-consuming tasks, automate follow-ups, and save time so you can sell more.
Performance reporting:
Interpret data effortlessly with visual analytics and make data-backed decisions to drive revenue.
Identify the campaigns, territory, and teams that are leading sales and bringing in the most revenue.
Identify the top performers on your team with the sales cycle and velocity reports.
Pinpoint which campaigns work and which ones don't.
Close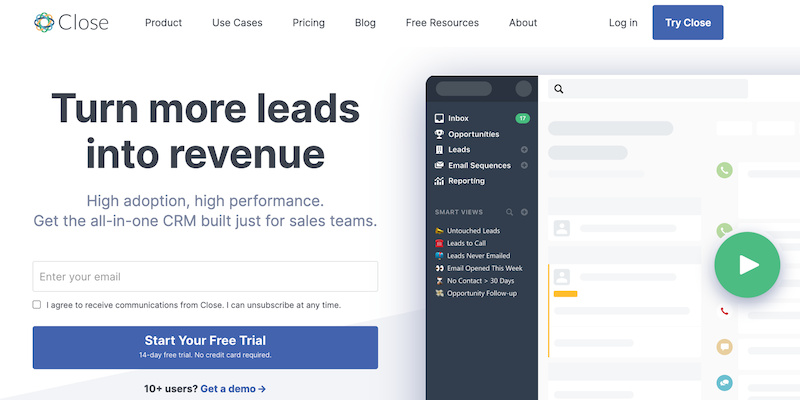 Close CRM helps inside sales teams close more deals through its actionable insights. You can track individual sales rep and team performance, get high-level pipeline overviews, and analyze call, email, and SMS success rates.
Key sales tracking features:
Customizable leaderboards:
Encourage healthy competition with leaderboards based on the metrics that matter most ‌to‌ ‌your‌ sales ‌team.
Analyze team performance for any given period, benchmark individual rep performance against it, and compare periods.
Measure and support each team member based on sales activity, such as emails sent, open and response rates, the number of calls made, minutes spent talking to prospects, and more.
Performance reporting:
Compare time-based reports – for example, how did you perform in Q1 this year versus Q4 last year?
Act on priority metrics, such as the time spent on the phone and the value of closed deals.
Export your data to external reporting solutions without losing critical insights.
Pipeline management:
Get a consolidated view of your pipeline with a simple drag-and-drop interface, easy ‌customization,‌ ‌and‌ ‌actionable‌ ‌revenue‌ ‌insights.
Automate your workflow with "Pipeline View" and get clear insights into your actual and expected revenue.
Make accurate predictions on open deals.
Hubspot CRM
HubSpot CRM has an easy-to-use interface with everything that inside sales teams need to organize, track, and build better relationships with leads and customers.
Key sales tracking features:
Pipeline management:
Get a real-time view of your entire pipeline on a clean, visual dashboard.
Identify blocks in your pipeline where potential revenue is accumulating, so you can rally your team to close the right deals.
Use your sales dashboard to monitor key sales activities, sales quota progress, and the overall value and health of your pipeline.
View detailed reports on sales activity, productivity, and individual and team performance.
Contact management:
Add company and contact information, log sales activities automatically, and keep records up to date quickly.
View every interaction you've had with contacts, and use this data to build campaigns that close more deals.
Get notified the second a prospect or lead opens your email, clicks a link, or downloads an attachment – and follow up flawlessly.
Give prospects the option to connect when convenient with a scheduling link that syncs with your calendar.
Sales automation:
Save time on manual data entry so you can send more emails, make more phone calls, and hit your sales targets.
Use workflows to automate manual, time-consuming tasks so that you can rotate leads, create deals, and more.
Which Sales Tracking Software is Right for Your Organization?
All of these tools are great options for tracking key sales metrics, but most are geared towards inside sales teams.
If you're running an outside sales team, then sign up for a free demo of SPOTIO to see how we can help your team hit its sales targets.