When you're new to door-to-door sales it can be tough to know where to begin canvassing a neighborhood. You could start at any door, really. So how do you evaluate your many options and find a good place to begin? Close your eyes, spin around and point to a map? It's been done before, I am sure, but a little pre-canvassing prep here can go a long way.
Don't Leave It to Chance on Knowing Where or How to Canvass a Neighborhood
Even if you are just starting out in door-to-door canvassing and don't have a customer base there are ways you can be more strategic about where you start knocking so that you have a warmer reception and a higher potential to generate good leads.
Knowing where to start, so that you can maximize your canvassing contact rate and doing a little bit of research up front will prevent you from wasting a lot of time once you get out in the field. And it will set the stage for a much better lead rate.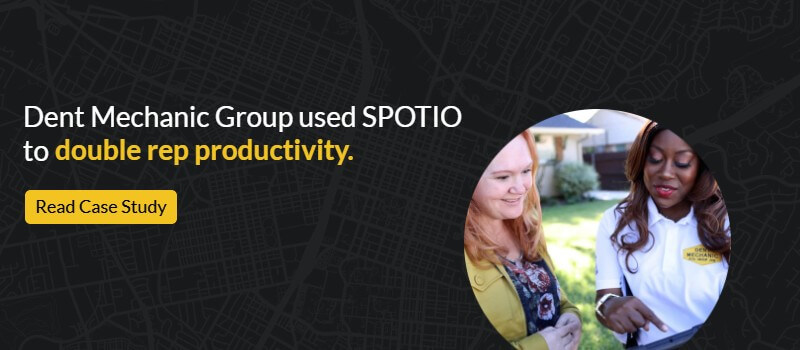 Options to Pre-Qualify Your First Canvassing Neighborhood
How to Canvass a Neighborhood for Sales Reps at Companies
1. Where Your Company Has Customers
Pre-qualifying neighborhoods to begin canvassing can be as simple as picking an area where your company already has some customers. It makes sense to go to an area where people are already buying – if some households in an area have had their need met by your product, it's likely that other households would respond positively, too.
Use those existing customers as an initial reference point to define your own turf. The main, and most important thing to remember here is to make sure you aren't canvassing on another rep's territory.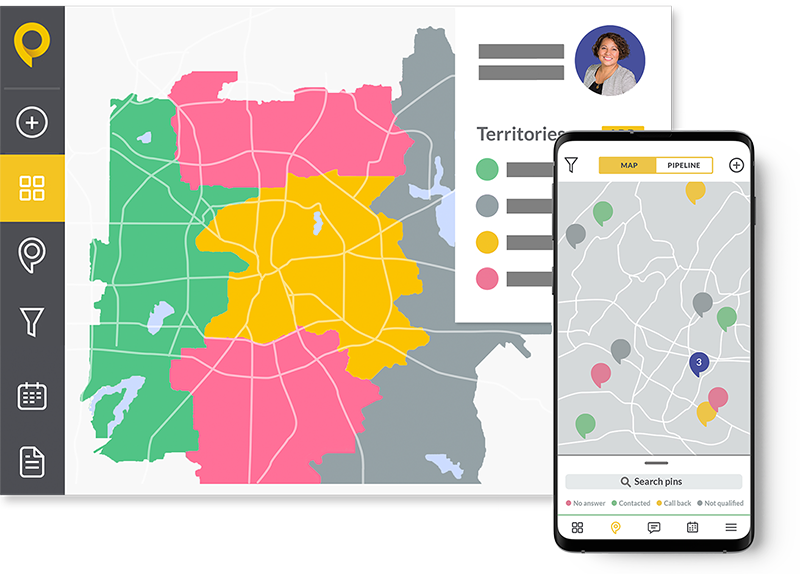 With SPOTIO's Territory Manager, you don't have to worry about stepping on another rep's toes. Pinpoint prospects and customers in a filterable map and ork territories confidently and efficiently with a clear view of what doors in each neighborhood have a rep assigned to them or not.
This can be a great place to start – you can see that sales are possible here, but if no one is actively working the area, it's free for you to knock.
You will be much more likely to have a prospect listen to you if you can provide social proof that you have worked with people they know. Start at the houses on either side or across the street from a current customer.
Your opening statement will be something like:
"Good afternoon, my name is Trey with Amazing Company. You might have seen us over at Bob's house next door last month installing that new incredible product and I wanted to stop by and let you know about a special we have that ends next Friday…"
That sounds a lot better than:
"Hi, my name is Trey with Amazing Company. We are in your area today letting you and your neighbors know about an amazing special we have that ends next Friday…"
2. No Customer? How About Leads
While current customers are the best, really any name is a great starting point even if it wasn't your lead. The point is to have somebody to reference.
In this situation, your opener would sound very similar to the one above but be modified because you haven't actually done work with the neighbor.
If you're looking for a neighborhood to start knocking doors that you haven't received any leads in yet, this is the time to go ask your manager for prospects from an ex-rep that used to work there.
Or, use a tool like SPOTIO's Lead Machine to identify pre-qualified leads for you.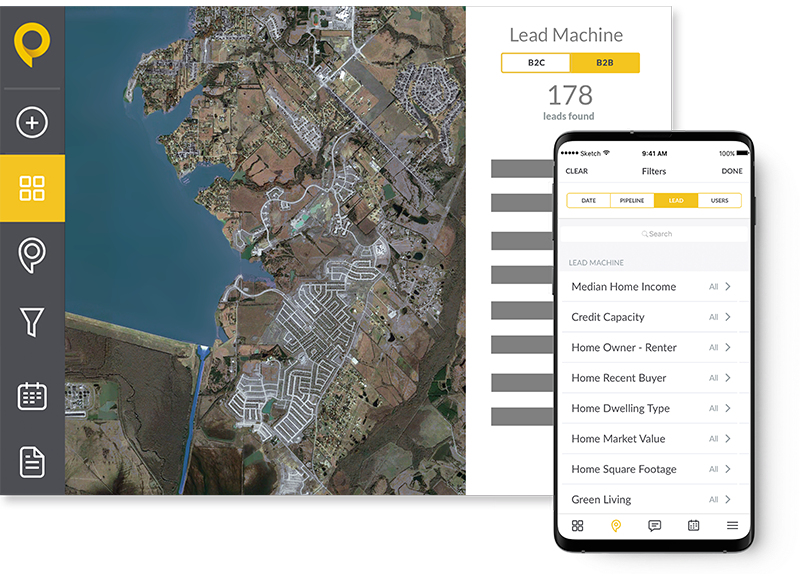 Lead Machine provides 200+ data points on homes; data such as the age, income, credit capacity, renter or owner, etc. available at your fingertips.
Save hours on knocking homes that don't meet your qualifications. When you have already pre-qualified your area of prospects it saves you the time of knocking doors that you would typically disqualify.
Sample opener for leads:
"Hello, my name is Trey with Amazing Company. You might have seen our ads on TV for the ridiculous deal X that we offer. Anyway, we were over at Joe's house next door recently doing a product demo and I wanted to stop off and make sure I let you know about an incredible special we are currently running…"
3. Re-hash Old Stale Leads
For a skilled door-to-door canvasser, these can be gold. Companies hate the fact that they spent money on leads that didn't become paying customers. The chances are that they have a ton of old leads in their system that they would love for somebody to re-hash.
You would start by going by the old leads house to see if maybe you have the magic touch to turn them into a customer. Yes? Then you will certainly be the office hero. No? You'll be noticed for going above and beyond while looking out for the company's bottom line.
Re-hash Opener:
"Hi Mr. Jones, my name is Trey with Amazing Company.  I'm sure you remember us from when we were out here in April?  Great, well I was in the area and wanted to let you know about a special we are running this month…"
Either way, you now have a good excuse to knock doors around the old lead. Use the opener described in situation 2 (above) to get things moving.
4. Working With The Best
No company and no leads? Well shoot; now what?
A good option to not only get into a new neighborhood, but also pick up some great learnings, is to find the best sales rep in the company and ask them if you can work for them for three days in the field in exchange for showing you a good neighborhood to work and what they do to be so successful.
This really works good in companies with low over site and training.
If you are a new sales rep, then offer to go set appointments for the seasoned pro. If you are a canvasser, ask to team up with someone better than yourself and offer to put all the appointments you generate for those days in their name.
Yes, you will be giving up some income initially but what you will learn in the process should be worth way more than any sales you would have made during that time.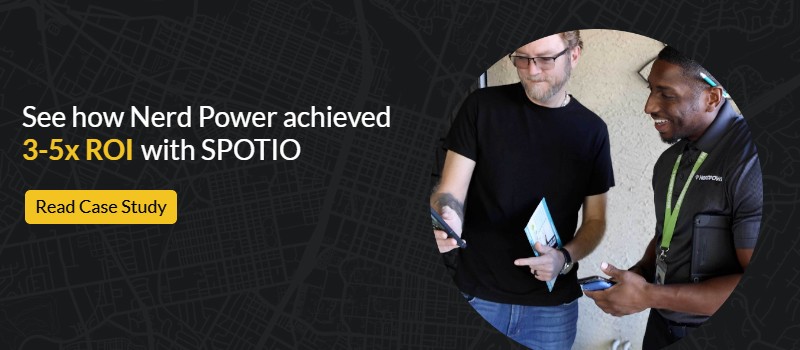 How to Canvass a Neighborhood for Managers
Up to this point, we have discussed what new sales reps or canvassers at companies should do and now we are going to shift focus to managers and owners.
If you are a new manager of a team and are given little to no direction on where to work then you would be best to start on the points discussed above in the Sales Rep and Canvasser section the only difference is that you will be bringing a team with you.
Do you plan to drop your team as individuals in different areas? No problem. Just get several old customers or old leads and practice the script with your reps. Let them know what to say to best increase their chances of success.
Did you just get a business that requires you to do door to door sales or want to try out this sales method to supplement your normal sales process?  Both are good reasons to give it a try.
If you have an existing business and are just getting started prospecting door-to-door, then use the steps above to go to areas where you currently have customers.
The toughest is for a brand new owner that has zero history of customers, leads or anything. It's going to be difficult deciding where to start.
The best thing for you to do is conduct some great market research to know exactly who your customer is.
You can do this by creating Customer Profiles. A customer profile is basically a story of who is most likely to buy what you are selling.  The more specific you can get the better.
For this example let's say you are a company that sells painting services. Your Customer Profile will contain a house that isn't necessarily new but probably not too old.  You want someone who cares about the appearance of their house and has the money to pay for serious upkeep.
Therefore, you would want to find neighborhoods that have houses 10 to 20 years old that are worth $250k (or whatever a middle to upper middle class house would be) and up.
How do you find these houses? One way is to use Zillow or Trulia to find houses for sale in that range and start in those neighborhoods.
A warm approach is always more comfortable than a cold approach so how can you do this without any customer?
Get some cheap door hangers printed out from Vista Print and go by the houses in the early afternoon and drop them off at the door. Once prime time knocking time comes (around at 4pm – 5pm) go back to the neighborhood and see which door hangers aren't there anymore.
From this you know two things:
That the homeowner is home and
They have seen your door hanger
Now when you go to the door you will have something to reference to in order to start up the conversation.
A potential opener:
"Good afternoon, my name is Trey with Amazing Company. We were in the area earlier talking to some of your neighbors about our incredible product.  We left behind some information and I wanted to make sure you got it…"
Using SPOTIO to Map Territories
Mapping territories by hand is not only time-consuming and tedious, it's also unnecessary.
Creating a sales territory map in SPOTIO allows you to easily map out target accounts and assign to reps. Create custom territories with a variety of metrics to ensure you're going after prospects with the best chances of turning into a sale.
With SPOTIO, establish territories in a variety of ways:
By zip code
By county
By state
Or draw your boundaries by hand using the lasso tool
Once you have the territories defined, organize and visualize this data with colorized pins. This is a way for reps to stay organized and sort through their map quickly and easily. They can set the color and data points for their pins, customizing their workflow.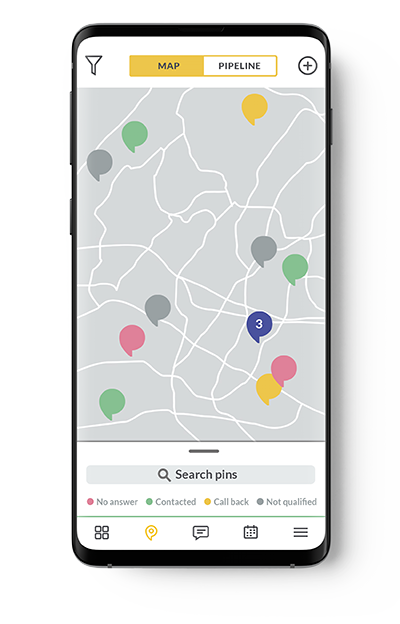 The benefits don't end here.
An organized map is great, but not much value for management. Managers need to see the data in order to evaluate performance. Using performance reports, you have the ability to view data and identify trends. See which territories and reps are performing well, and those that may need a little help. In a few clicks, analyze your field sales productivity.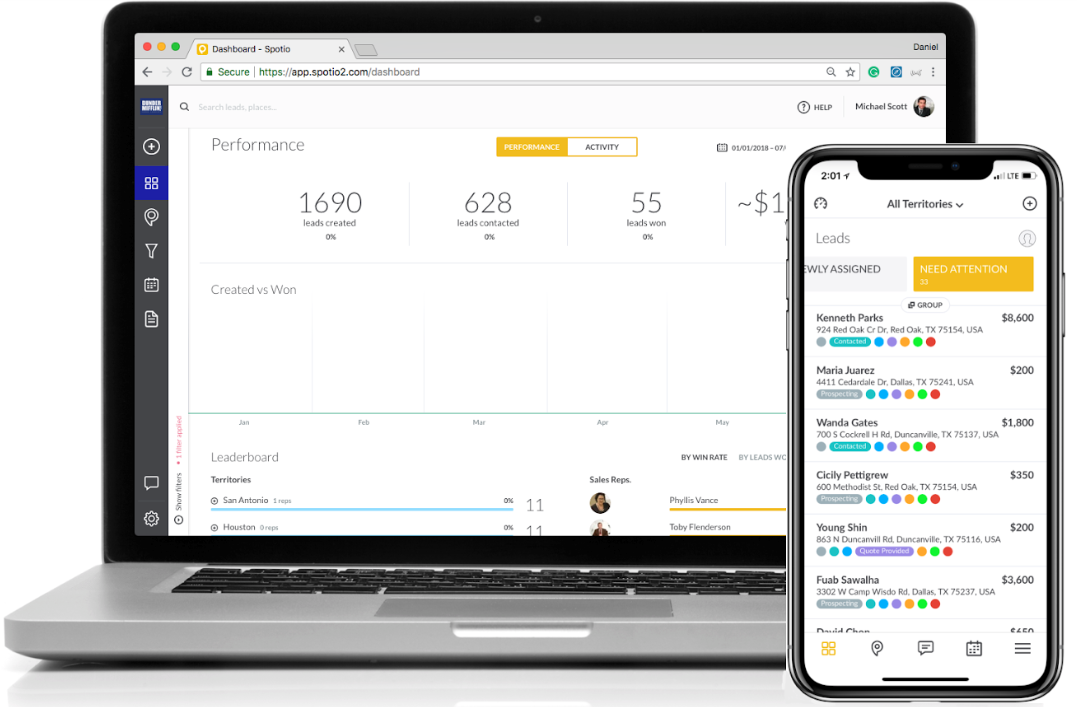 In Closing
With these potential ways to kick off your door knocking or canvassing campaign you should have no problem getting started. Don't spend too much time getting ready to get ready as all of this can be done in one afternoon. The most important thing is to just Do The Work.
And no matter where you begin, remember to "start at the top and work your way down." This could refer to a building, a street, or any other aspect of how your canvassing area is laid out.
One easy way to keep track of where the doors you've knocked and where you're knocking next? The pin-dropping feature in SPOTIO's door to door canvassing software is where this magic happens. You'll have easy access to a visual representation of where you've been and where you're going next.
_____
SPOTIO is the #1 field sales engagement and performance management software that will increase revenue, maximize profitability, and boost sales productivity.
Want to see a product demonstration? Click here to see how SPOTIO can take your sales game to the next level.