Let's discuss 4 important tips on how to find sales reps on LinkedIn
The search is on! You are very clear on the exact type of person you are looking for to add to your sales team. You've got their qualities listed out, personality traits identified and the exact skill set you are seeking. You've even researched other companies that have a similar sales team like the one you want to build for yourself.
All you need now is a pool of qualified individuals to get your recruiting party started!
The problem is that the best-of-the-best salespeople are already producing for another company and have a top notch pay plan, so they aren't actively looking for a sales position. And, if they aren't looking, then they won't be applying on your company's career page.
So, where do you find them?
LinkedIn, of course.
This popular professionally-based social media platform conducted a study, "The State of Sales in 2016," and found that approximately:
70% of sales pros use LinkedIn to meet customers and build strong relationships;
90% of top-performing salespeople use social media, identifying LinkedIn as one of their top three platforms; and
71% of salespeople overall use social media.
Look at these numbers and let them soak in for just a minute.
If 90% of top-performing salespeople are using LinkedIn, why are you not using it to recruit top-performing talent?
This tutorial will guide you through the process on how to find sales reps on LinkedIn and discover your next top salesperson.
Some LinkedIn Essentials to Learn Before Finding Your Next Sales Rep on LinkedIn
To begin seeking top sales talent on LinkedIn, make sure yours and your company's LinkedIn profiles are properly formatted to show the level of professionalism you are seeking in your potential sales reps. If these two profiles are incomplete and look amateur, this is the type of talent that you will attract. However, if these profiles present you and your company as high level professionals, top-performing salespeople will be attracted to what you have to offer.
Be sure your profile is at least on the "advanced" level, but preferably on the "all-star" level, according to LinkedIn's standards. Here's how to determine what level your LinkedIn account is currently rated:
Log into your LinkedIn account.
In the top left of the page where your picture, name and title is listed, click the blue box with "Improve Your Profile."

3. On the right of the page, you will see a "Profile Strength" section. Make sure the circle reflects green and the "advanced" level.
To get to the "all-star" profile status, here are the 7 actions you need to take:
Add a profile photo, preferably a professional headshot.
Enter your industry and location.
Make sure your current position is up-to-date with a detailed description.
List at least two past positions you held.
Complete your educational details.
List at least 3 skills.
Connect to at least 50 individuals within your LinkedIn network.
Having a strong LinkedIn profile ensures potential top-performing salespersons, in which you interact and attempt to recruit, that you are a well-connected professional within your industry and take the necessary steps to make a great impression.
The same holds true for the company in which you are recruiting for, so be sure their LinkedIn profile is optimized as well. You can be sure that if you reach out to top performing salespeople, they will not only research you but the company in which you represent.
The main characteristics of an optimized LinkedIn company profile include:
Images evoke emotions and feelings, so your company's LinkedIn banner should incorporate elements such as logo, colors, catch-phrases, etc. that encompass its culture. Add images of employees working, volunteering and having fun while working to grab the interest of LinkedIn visitors.
Make all messages on your company's profile clear and easy to understand at a glance. Top performing salespeople don't have time to research your company in depth; therefore, make sure the words chosen reflect why your company is unique.
Identify a few key salespersons that are currently on your sales team to share their experiences with your company on the company's LinkedIn profile. Ask them to provide you with a couple of brief sentences of why they love working with you and for your company.
Finding Top Performing Sales Reps on LinkedIn
Once you have these two LinkedIn profiles at a high-caliber level, hone in on the extraordinary sales talent you are seeking by following these steps:
Join LinkedIn groups. Groups give you direct access to a crowd of people, all focused on the same overall topic. This is a prime place to start networking with potential recruits on LinkedIn. Besides, this is where a lot of the 90% of top performers spend their time on LinkedIn, searching for their next client.
The goal is to answer questions within the groups to position yourself as an expert as well as pose different related topics for discussion. For example, find an industry-specific stat, post it in a relevant group and ask for the people within the group to voice their opinion of the data being presented.
The more people start seeing you participate in groups, the quicker you will establish yourself as a competent sales manager that top salespeople will be interested in forming a relationship with.
To find and join groups:

Log into your LinkedIn account.
Type "sales representative" in the white search bar at the top of the page.
In the grey box to the left of the white search bar with 3 lines, click on the little down arrow.
Choose "Groups."
Click the blue box with the magnifying glass.
A list of groups that match this search term will populate your screen.
Click on a group's name.
Read "About this Group" to determine if you believe joining this group will lead to establishing meaningful relationships with top sales talent.
Click the "Ask to Join" button.
Bonus Tip: To jump start your LinkedIn group search, here's a group you should join: Door to Door Sales Professionals.
Seek potential recruits by using LinkedIn's Advanced People Search. This tool allows you to enter specific details about the top salespeople you want to recruit such as title, industry and location.
After logging into your LinkedIn account, at the top of the page to the right of the blue box with a magnifying glass you will see "Advanced." Click to reveal:
To search for candidates:
In the left column, type "sales representative" in the "Title" section.
In the middle column, click "Location" and "Add." Enter a city and state in the blank. (If you want to search more than one area, click "Add" again, and enter the next city and state.)
Next, click "Industry" and tick mark the industry you need.
Click the blue "Search" button at the bottom of the left column and a list of potential recruits based on your search criteria will be listed.
Bonus Tip: When using LinkedIn's Advanced People Search tool, be sure to add as much search information as possible to produce a more customized list of potential recruits.
At this point, scroll through the list and when you find a potential recruit that catches your attention, click on his or her name. This will take you directly to that individual's profile. Explore the individual a bit more by:
Reading his or her summary to determine their credibility;
Looking for recommendations from clients or customers which is way more powerful than recommendations from coworkers; and
Check out the profile picture. Is it a professional headshot or a picture of the individual doing a round of shots at a bar? The way someone chooses to present themselves via a picture says a lot about that individual.
Make your connection message stand out. As you research LinkedIn profiles, you will find potential recruits that meet your criteria. Send an invitation to connect.
Click the blue "Connect" button on the person's LinkedIn profile to reveal: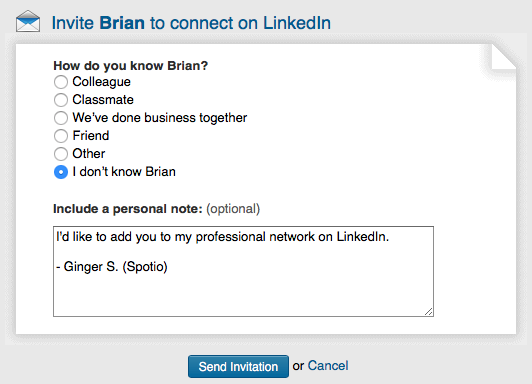 Choose how you know the person and then delete LinkedIn's default message: "Hi, I'd like to add you to my professional network on LinkedIn" in the personal note box. Not only is this boring, it is very impersonal and does not demonstrate that you are attempting to form a relationship with that person.
Try engaging with a message such as: "Hi ______.  We've never met, but your profile came up when I was looking for top performing salespeople. I'm really impressed with your skills and background knowledge, and would love to learn what drew you to work with _______ . Can we connect?"
Research your competitor's top sales people. Find these individuals on LinkedIn by searching the name of the company and determine who is associated with that particular company.
In the above example, I searched the company Netflix and then I have a choice from the drop down menu to see people who currently work at Netflix and those who previously worked there. Use this data to:
Connect with top performers who previously worked at a company and ask him or her why they quit. You may be able to win them over to your team by countering their complaints with all the positives your company offers.
Connect with top performers who currently work at a company and ask him or her why she prefers that company. This can give you insight on particular "perks" top performers are looking for and how your company can offer the same or better.
As you find the top salespeople, review their profile and see who they're connected to on LinkedIn. Usually people connect with others in the same industry, so this could lead you to another sales superstar of the same caliber to reach out and connect.
Start your LinkedIn recruiting journey today! The more you use LinkedIn, the better you will understand the power that you have to discover top talent for your sales team, and it doesn't cost you a dime!
______
SPOTIO is the #1 sales engagement and territory management app to increase your revenue, maximize your profitability, and increase your team's productivity in just 2 weeks.
Want to see a product demonstration? Click here to see how SPOTIO can take your sales game to the next level.