BUILDING A STRONG SALES TEAM STARTS HERE.
SPOTIO enables field sales teams to achieve unprecedented sales performance; increasing sales by 46%.
No matter which part of the sales process you're looking to improve, SPOTIO has you covered.
Dramatically improve sales and generate up to 20% more revenue.
– Stay organized
– Focus on the true needs of prospects
– Save time
– Ensure you're working the right territory
– Increase sales
READY TO ACCELERATE SALES?
Request Your Demo:
With SPOTIO, gain a better understanding of your process and rev up the sales engine.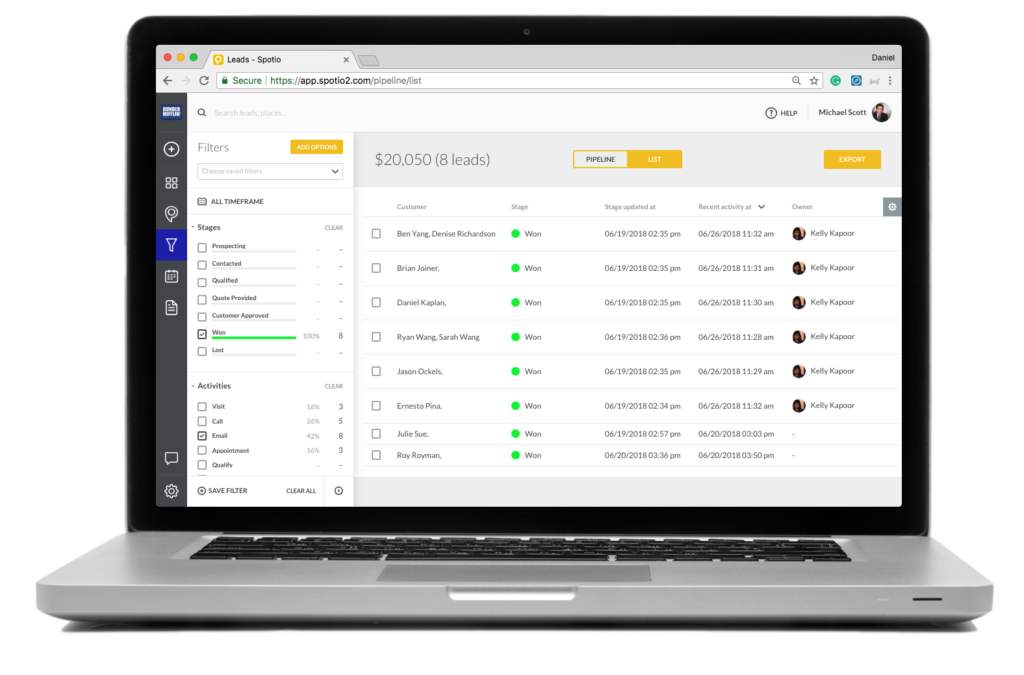 Executive Insights
SPOTIO provides historical and real-time conversion data so field sales managers can establish pipeline benchmarks and properly forecast business. Use proven data to measure team performance and find leaks in the funnel.
Route Optimization
Sales reps can efficiently plan their day by setting meetings and routing the best path to get there. While in their vehicle, they can easily see their next meeting, sort through new leads in their territory, and track mileage along the way.
Sales Intelligence
Stop wasting time with accounts that have a low chance of closing, and focus your attention on those that do.
Via our integration with Google Places, get details around lead targeting, addressable markets, and lead sorting.
Lead Management
SPOTIO's lead management software eliminates the need to use multiple tools to collect and track leads.
Stay organized, focus on the true needs of prospects, save time, increase sales, and know you're working the right territories.