DALLAS, TX. – SPOTIO, recognized as a leading field sales engagement software for B2C and B2B customers, has received six G2 Awards as part of the Fall 2021 Report.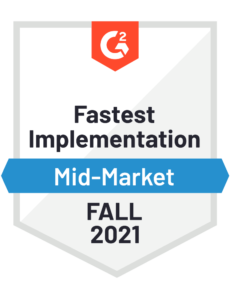 G2 Grid for Field Sales Software
G2 Grid for Route Planning Software
"The G2 awards are a consistent reminder to continue to solve for our customers, knowing their goals and aspirations and to bring 10x return on investment to field sales. We work tirelessly to help our users reach their goals."

–

Trey Gibson, Founder & CEO.
SPOTIO is a mobile-first solution for outside sales teams to eliminate the guesswork in their sales process and focus on the highest impact activities.
SPOTIO removes obstacles all field sales leaders struggle with, allowing reps to get more activity with the same level of effort, enabling reps to hit their number more consistently, and providing clear visibility into their activities so management can coach them to close more deals.
SPOTIO provides the best mobile user experience in the market for sales tracking and territory management, in addition to powerful CRM integration as a field sales system of action for reps.
SPOTIO's GPS-powered application gives immediate insight into precisely what's going on in the field in real-time, with analytics that shows why some reps are successful and some are not.
The net effect is that you're able to ramp new reps faster, get more productivity from your outside team, and generate more accurate forecasts, all with less management frustration.
SPOTIO is transforming outside sales to achieve more.
Take a look at
SPOTIO's reviews on G2
to see what customers are saying about the platform. 
About SPOTIO
SPOTIO is a field sales engagement tool designed to improve efficiency and accelerate every aspect of the field sales process. For sales reps, managers and operations, SPOTIO is a solution that eases the burden of the day-to-day by automating manual tasks, fostering accountability, and providing tangible insight into how your sales organization is performing.
With features such as CRM Mapping, Autoplays, Activity Tracking, Prospecting, and built-in Reporting Dashboards, SPOTIO centralizes outside sales team activities to provide sales organizations with the visibility and insight needed to drive revenue.
Backed by Ballast Point Ventures, SPOTIO has accomplished rapid growth with a mission to transform outside sales teams to achieve more. SPOTIO is a privately held SaaS company based in Dallas, Texas.