Using SaaS Sales Software To Grow Your Home Improvement Business
By most other industry standards, the home improvement vertical experienced a robust 2018. A recent article from the Qualified Remodeler, 2018 HIP 200: Labor and Leads, showed that the largest 200 home improvement and replacement contractors (HIP200) billed just under four billion dollars on 696,773 total jobs. Great news for the home improvement sect – until we dig just a bit deeper into total industry earnings from the previous year.
Despite a relatively thriving marketplace, the 2018 home improvement segment actually dipped when compared to 2017, when earnings totaled $4.2 billion billed on 749,000 jobs, indicating a relatively significant downtown after a prolonged stretch of accelerated industry growth.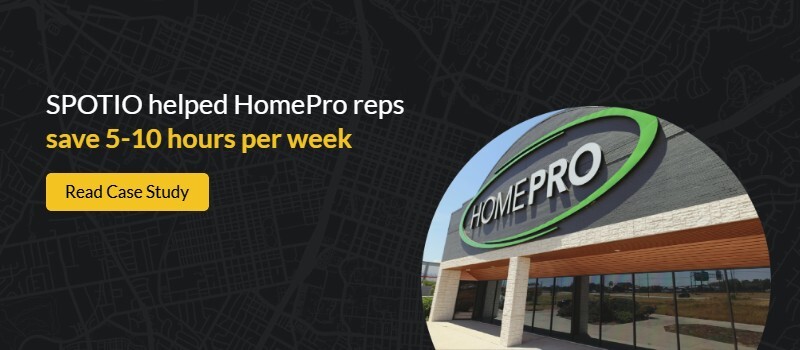 Lead Generation Poses Challenge To Leading Home Improvement Professions
There are many factors and moving parts contributing to lower home improvement industry earnings, including labor shortages, increased government regulations, and employee retention.
However, while a lack of qualified talent topped the list of industry challenges (at 28.1% and 25.1% respectively), a third prominent challenge was acknowledged by 21.6% of those polled: generating leads for new business.
The chart makes it very clear that in 2018, not only did the HIP 200 struggle to access the talent needed to sustain their business; they also struggled to unearth the new prospects needed to grow their business. The ever-increasing expense of sourcing, chasing, and tracking leads, coupled with an upswing of marketplace competition is proving cost prohibitive, ultimately restricting a company's overall revenues and profits.
Beyond Internet Searches: Home Improvement Professionals Recognize Lead Opportunities
Fortunately, not all is negative on the home improvement lead front. Despite feeling challenged to effectively and consistently generate leads, the HIP 200 did recognize an overall higher volume of leads for new business as the industry's top opportunity: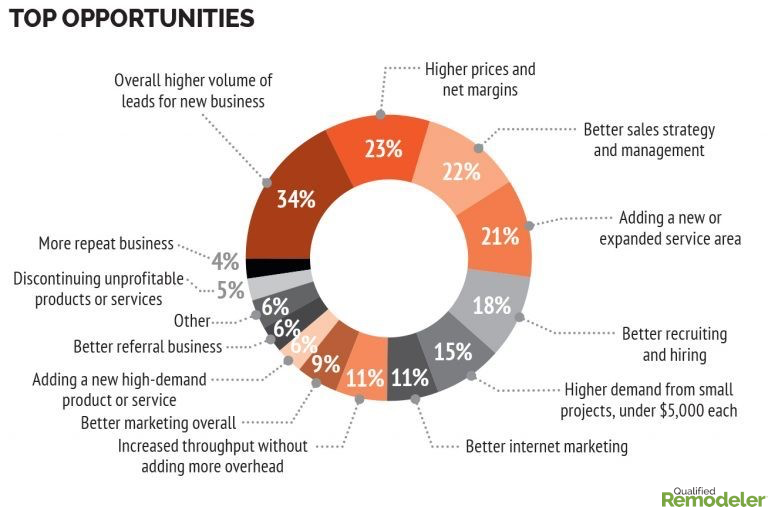 Generate Leads Around Current Job Sites
It may seem counterintuitive that the disturbance from a construction site is the perfect time to land new business, but there could not be a better time to capitalize.
Here's the strategy…
Knock doors within a 5 – 10 home radius of the project to drop off a "we apologize for the temporary inconvenience" treat (think: fruit basket, baked goods, ear plugs, etc.). As you deliver your goodies – with a company flyer in there for some marketing – let each resident know the scope of work, the projected timeline, and ask if they currently have a need for any home improvement projects you may be able to help them out with.
Not only does this simple gesture speak volumes of your business, but it will result in new clients as well.
SaaS Sales Software To Enhance The Sales Process
As industry competition continues to grow, home improvement firms find the need to supplement their existing sales tools and strategies. For many business owners looking to go beyond Google searches and door-to-door lead tracking, a SaaS-based sales software solution delivers an ideal way to both sustain and grow their current operations.
Recognizing The Benefits Of An Integrated Sales Software System
Does a SaaS-based sales software platform make sense for your home improvement business? Understanding some of the biggest benefits yielded with an integrated platform can help you decide if it's right for your operations.
A dynamic, digital sales system can help:
Optimize Lead Efforts And Efficiencies
Manual lead sheets can prove a major time waste. Not only are handwritten leads time-consuming – they often offer very little long-term value. A digital sales system allows your staff to quickly log every prospect engagement and possible lead in mere seconds to maximize effort and efficiencies with long-term ROI.
Log And Manage Referrals
Referrals from existing customers can prove an invaluable lead source – when they are logged and stored appropriately. An integrated sales platform not only automates data capture on each lead, but it will also help you manage the referral throughout the process to ensure it receive sufficient follow-up.
Eliminate Intelligence Gaps
Manual prospecting and lead gathering often mean that collective account knowledge is lost every time a sales rep leaves your organization. A SaaS-based solution centralizes all data points to eliminate the intelligence gaps that may occur with employee turnover. Every new hire will have instant access to all relevant client information to keep the sales process moving forward.
Provide Invaluable "Big Picture" Insight
Finally, an innovative digital sales solution will provide a detailed dashboard that automates relevant metric calculations, so you can quickly pinpoint what's working…and what requires modification. Viewing real-time sales data of your pipeline can help boost productivity levels where it's needed most as well as help you strategically set up each individual sales rep for best possible success.
______
Questions or comments? Contact SPOTIO at [email protected] or comment below.
SPOTIO is the #1 field sales acceleration and performance management software that will increase revenue, maximize profitability, and boost sales productivity.
Want to see a product demonstration? Click here to see how SPOTIO can take your sales game to the next level.